Bottles for Babies
Bottles for Babies
January 28 - March 4, 2018
Fort Saskatchewan Alliance Church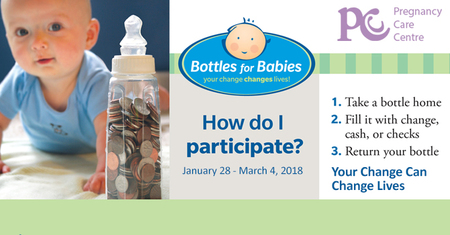 Guiding Principles of the Pregnancy Care Centre
Directed by Christ, we trust Him to accomplish His work through us.
In this spiritual battle, we must be armed; covered in prayer, ready, faithful, and skillful.
We are a client-focused organization that respects and values our clients, demonstrating in practical ways, the love of Christ to individuals.
While we believe in the sanctity of human life, we hold that our clients are free to make their decisions.
All supporters, including staff, volunteers and donors are vital to our ministry.
11223 100 Avenue Edmonton, AB T5K 0J1 (587) 805-4067 [email protected]
Return to Events
---